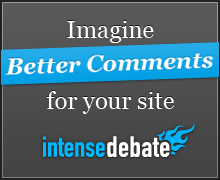 Hey guys! I've been messing around with new comment forms to add to the blog. I found a great one, Intense Debate. It will be much easier for me to moderate comments, especially for giveaways and things of that sort. It also provides
privacy
for you guys. I've had more than a handful of people emailing me to delete their comment because they wrote their email in the comment form
(which I require for giveaways if not available through your blogger profile)
.
So, this new form will still require you to enter your email, BUT it is not displayed publicly and is visible to ONLY me. I will no longer announce giveaway winners via their email, i will simple use their names and city/state if you guys choose to disclose that on the form. Also, this form has an optional entry for your website/blog, if applicable, (You can easily enter your blogger profile URL) i will use that instead to announce winners.
I hope you guys prefer this new one
(will only be available on newer posts posted after 9/2)
. Perfect, in time for the GREAT
Weekend Giveaway Bash
this weekend! I'm super exited, hope you guys will drop by!
So look below, leave a comment and try it out!
Trouble Commenting?

:
If you have trouble commenting on a post, please note that IntenseDebate Comment form is the very last thing to load on the page so make sure the page you are on has fully loaded. The comment form is located below the entire post. See the picture:
You will see "Comments" is red along with a form. You DO NOT have to sign up with Intense Debate to comment. You simply enter your name, email, and website (which is optional). Your email is ONLY visible to me, which helps with privacy for those of you who don't like to enter it for the public to see.

During giveaways, when you post more than 1 comment on a post, you only have to enter your email once. Also, when commenting you can sign into wordpress, twitter, openID, or an Intense Debate account to comment, but again, this is not needed or required.