I hate buying or shopping for vacuums, and that is only because I know that after couple months they are useless and I wasted about $40 - $100. My house is just under 3,000 square feet, and the majority of it is covered in carpet, which I have noticed I was becoming to strongly dislike. When I found out that Dyson was going to send me one of their vacuums to review, I called, txt-ed, and emailed just about everyone I possibly could out of excitement.
"Dyson DC23 Animal is a canister vacuum with Level 3 Root Cyclone™ technology designed for homes with pets. With a turbine head and Mini turbine head to remove dirt and pet hair from carpets, upholstery and tight spaces."
I was sent the
Dyson DC23 Animal Canister Vacuum
. In the box was the attractive DC23 Canister Vacuum, which has a clear dust bin and purple trim, a turbinehead brush bar, mini turbinehead brush tool, articulating hard floor tool, a brush tool and crevice tool, along with the operating manual, quick start guide, warranty information and 5 year warranty. I have used this vacuum a lot over the past 3 weeks and still am amazed at the results.
The first day I got the vacuum, I immediately put it together, which was a breeze, and vacuumed the living and dinning room first. I went on to clean all 5 bedrooms along with the laundry room, kitchen, all 4 bathrooms and the foyer. Out of excitement, I did not notice the dust bin was completely full. I was disgusted knowing we were living alongside all the dust, hair, pet hair, and who knows what else was in that bin. Emptying the bin was a joy, you simply grab onto the handle on the top, press the button and it automatically opens from the bottom emptying itself. What a relief not having to stick my hand in there and getting the clumps of dust and dirt that we all had to do with our other vacuum cleaners. Best of all, it features a HEPA filter which is washable (every 3 months or so) that traps microscopic allergens including mold and pollen.This saves on costly filer bags overtime.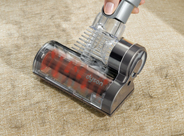 I have 3 dogs, 1 of which stays indoor, and it has been no problem for Dyson. My Siberian Husky sheds like crazy and when he is put in the garage or comes inside to go out the front door, his hair is left in the carpet in the dinning room and floats its way to the couches, where my indoor dog loves to play. The mini turbinehead brush tool has been great at removing 100% of the hair from the couches, the the regular-sized turbinehead brush tool effortlessly pick up the hair in the dinning room. This is all visible and can be seen through the clear dust bin. I also use the mini turbinehead to clean my bed, pillows and futon.
One thing that I absolutely adore about the Dyson DC23 Animal is the brush tool. Instead of dusting and spreading the dust all around the room the Dyson simply sucks it up. Dusting has never been fun for me, as I have to wear a bandanna over my nose and mouth from fear that it will fly into my mouth or nose. The vacuum also does not expel dust back into the air as you vacuum, you will notice the difference. I have become a huge germaphobe over these last couple of years and knowing that this vacuum is certified asthma & allergy friendly by the Asthma and Allergy Foundation of America, comforts me.
The suction power on this vacuum is insane! Our most recent failure, the Dirt Devil vacuum, lost its suction about 2 months in and decided that it would choose what to pick up and what to leave. Unfortunately, after 3-4 months it had no more choice and picked up nothing more. The DC23 Animal has
Level 3 Root Cyclone technology
, which is the most efficient cyclone technology for capturing microscopic dust.
Pros: Retractable 21ft. power cord (by push of a button), easy set up, on-board tool storage, amazing suction power, washable filter, all the tools, ease of use, stair climber. The only improvements i see are that it could improve with a longer more flexible hose and maybe an on/off button near the handle itself.
The Dyson DC23 Animal Canister Vacuum retails for $499.99, and in my opinion is worth every penny. I see this as a huge amount of money, but very well invested. If we were to put into account how many vacuums we have gone through, tried to fix, and the amount of filters we had to buy, it wouldn't come short of the retail price of the Dyson. It has surpassed my expectations and I can't even do a full comparison of it next to the useless hunks of plastic that I have bought in the past. Huge thanks to Dyson for the opportunity to review their unique and very well-made beautiful vacuum cleaner.
Disclaimer: I was NOT paid for this post, however I did receive the product in question, from the company or their representing PR company, free of charge in exchange for my review. All opinions are my own and I have provided a fair and honest review. I received no other compensation for my review nor was I under any obligation to give a positive review.